The deepest cave in the world and the horrible story about Sergei Kozeev
In august 2017, the Russian team of cave explorers "Perovo-Speleo" reached a depth of 2204 meters in the Verevkin cave from the entrance level. Verёvkina (Veryovkina) cave on our surveys is 2204m deep. It is on the waterline of Nautilus sump. And it is not the end yet!
The found a tourist at 1100 meters
August 2021 – "Perovo" expedition found a body of a tourist at −1,100 meters (−3,600 ft). He was later identified as Sergei Kozeev, who left his home in Sochi (Russia) on 1 November 2020 and began descent into Veryovkina, where he spent around a week at a −600 meters (−2,000 ft) permanent camp. Then he continued his descent down to technically challenging parts at −1,100 meters (−3,600 ft) where he got stuck due to inadequate equipment and skill, and died of hypothermia.[11] The body was eventually recovered after a complex retrieval operation on 17 August 2021.[12]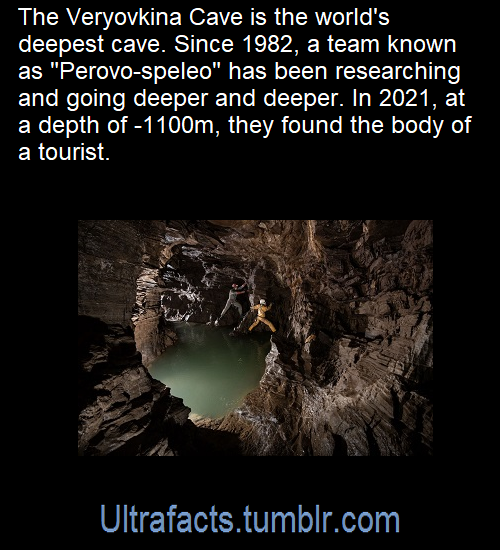 And then the water came
Caving in the Veryovkina during the flood/"Еpic moment in the Veryovkina cave": I read an article about this team experiencing a sudden and violent flood that occurred after heavy rains. They only barely made it to higher ground. The photographer lost a lot of equipment, but they all survived.
I'm sitting here safe in my bed and my heart is going a million miles an hour just thinking about this, cannot imagine going through it so bravely. I'm sure some amazing footage was lost, but the fact that this footage alone survived is a wonder, amazing shots for such a perilous and panic inducing situation, thank you!!! 👏🏻