"Have Mercy Mr. Bully" – The Myanmar Coup-de-etat song Cute girl Dancing
And this is the original dancing video of her. She is doing an aerobic dancing class.
And the best Meme to this. Also the beat is dope. The bee girl is cute the dance even cuter and the cat is cool. Even trump is lol in this meme.
Her Name is Khing Hnin Wai and this is the orginal facebook account with all the videos. So there is no need to deoubt that this is real. Ultralol.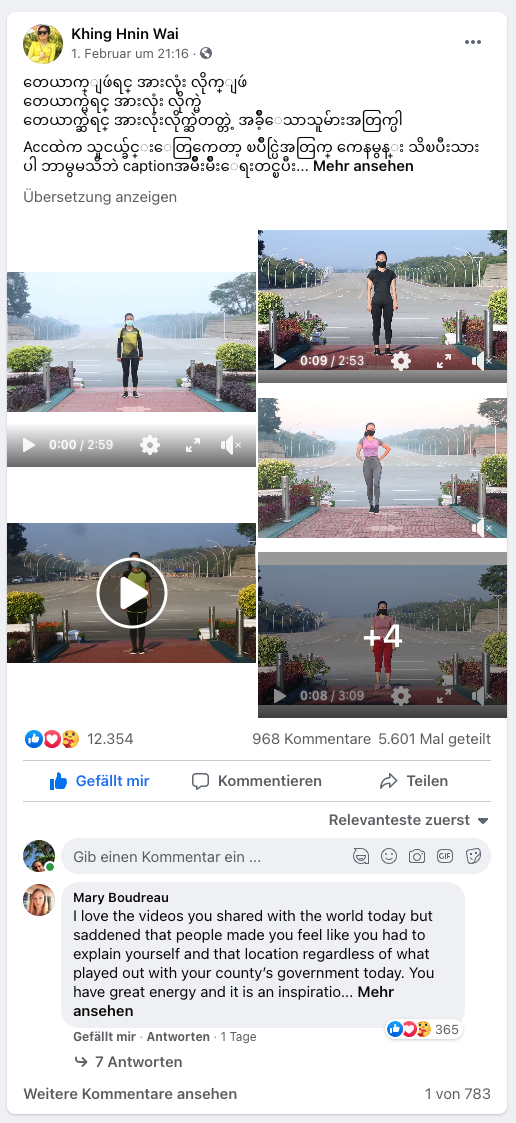 Und so sieht die Schrift aus:
သီခ်င္းတီးလံုးနဲ႔ ေနာက္ခံ႐ူခင္း လိုက္ဖက္ေနမႈမနက္ကသတင္းေတြမသိခင္ ပံုမွန္တိုင္း ၿပိဳင္ပြဲတင္ဖို႔သြားကတဲ့videoေလးက အမွတ္တရ ျဖစ္သြားတာေပါ့ကေနရင္း ရဟတ္ယာဥ္ေတြ တဝီဝီ ကားေတြတဝူးဝူ